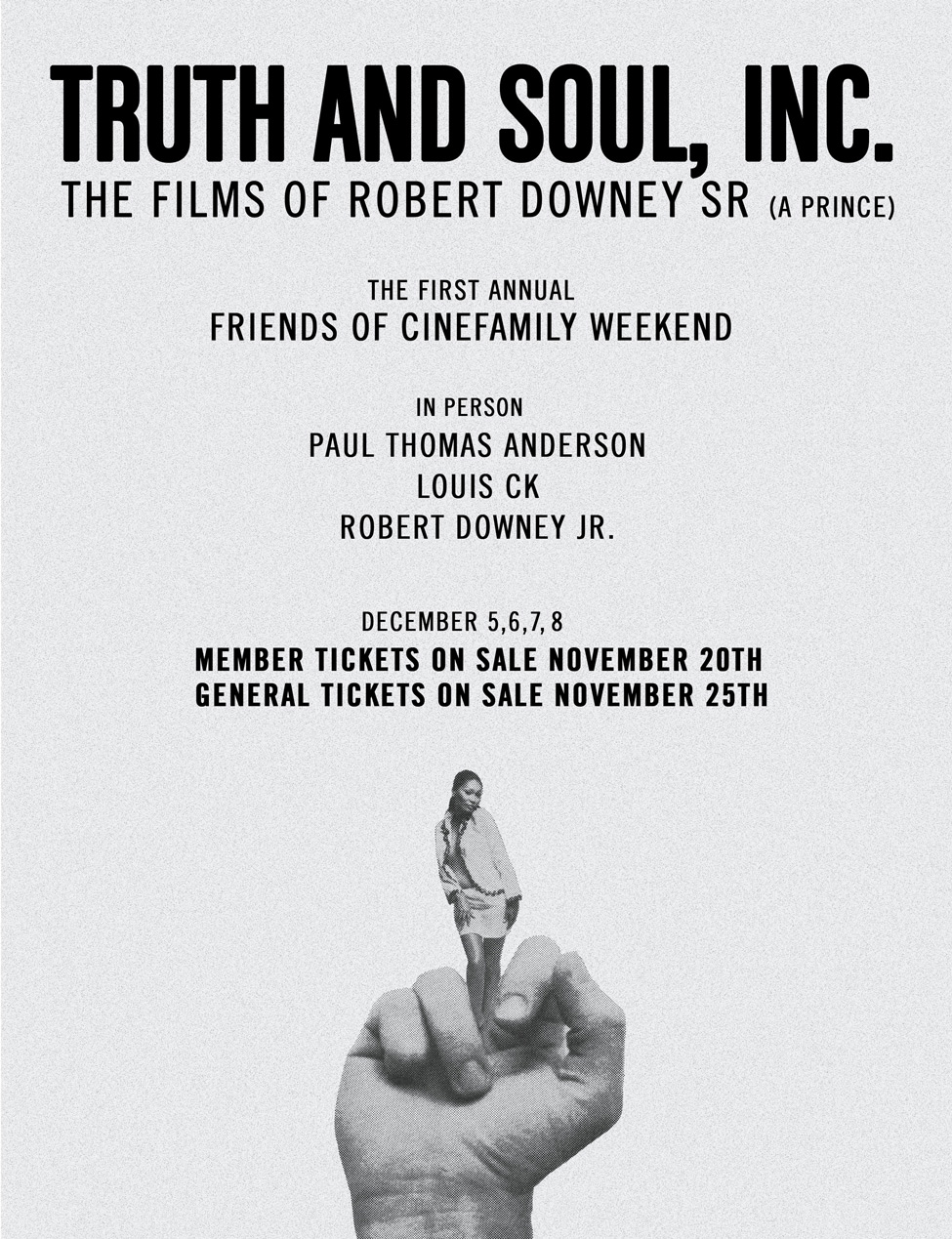 Louis CK, Robert Downey Jr., and PT Anderson honor Bob Downey Sr. in person!
Tickets are now available to Cinefamily "Black Card" members until November 25th — when any remaining tix will be made available to the general public.
Underground filmmaker, midnight movie darling, existentialist cosmic joker, and surrealist film freak extraordinaire–Robert Downey Sr. was the clown prince of the beat cinema scene in it's golden age.
Downey's absurdist wit and jazzy film style made him a critics' darling and audience favorite in the arthouse scene, and in a matter of months, Downey went from Greenwich Village bohemia to the Tonight Show. Join us as Cinefamily celebrates his off-the-beaten-path vision.
Tickets are a tax deductible donation supporting Cinefamily!
All tickets will be password-protected until noon on Tuesday, November 25th. To receive the password now, donate for a Cinefamily "Black Card" Membership through our Membership page!
Friday, December 5th, 8:00pm AN EVENING WITH ROBERT DOWNEY, SR. (hosted by Robert Downey, Jr.) feat. Chafed Elbows (archival 35mm print!) & Two Tons of Turquoise To Taos Tonight Ticket info ($100)
Saturday, December 6th, 7:00pm DOWNEY AND THE MIDNIGHT MOVIE (hosted by Paul Thomas Anderson) feat. Greaser's Palace (brand-new 35mm print!) & Pound ($100 donation)
OFFSITE @ ACE HOTEL Sunday, December 7th, 2:00pm DOWNEY, CLOWN PRINCE OF THE UNDERGROUND (hosted by Louis CK, feat. Putney Swope) Ticket info (premium: $75 donation) Ticket info (general admission: $45 donation)